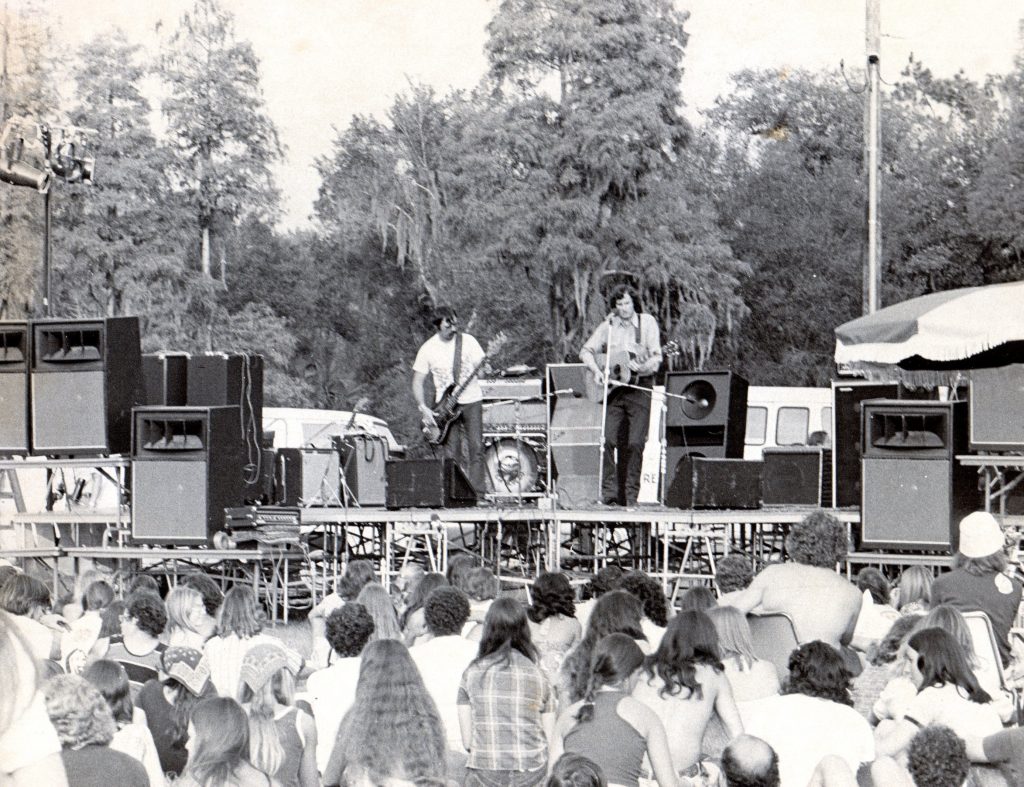 ST. AUGUSTINE, FL — The Gamble Rogers Music Festival will take place May 6-8, 2022 at the Colonial Oak Music Park in downtown St. Augustine, Florida. Festivals tickets are available at gamblerogersfest.org
The festival celebrates recording artist Gamble Rogers who died trying to save a drowning swimmer in 1991. His passion for balladry and storytelling shaped American folk music. The festival has honored that tradition since 1995 by bringing to the stage international and national artists, as well as local and regional performers.
The 2022 event will include more than 30 musical acts, with headliners The Steel Wheels, an Americana band from the Virginia mountains. See the full lineup below.
Along with three full days of great music, the Gamble Rogers Music Festival will offer plenty of food and drink available at the Colonial Quarter's restaurants and beverage sales areas, a jam area, merchandise and more.
New this year, the Riberia Gardens stage, located across the street from Colonial Oak Music Park, will feature youth-friendly performances and activities including a ukulele workshop, storytelling, hands-on music making, and family-friendly music.
Tickets are $60 for the 3-day event; $20 for Friday, May 6; $30 for all-day Saturday, May 7; and $20 for Sunday, May 8. Purchase tickets at gamblerogersfest.org
EVENT HOURS
Friday, May 6: 5 to 10:30 p.m.
Saturday, May 7: 10 a.m. to 10:30 p.m.
Sunday, May 8: 10 a.m. to 6 p.m.
GAMBLE ROGERS MUSIC FESTIVAL
Founded in 1995, the Gamble Rogers Music Festival honors the music of recording artist Gamble Rogers with live music performances, celebrating and supporting musicians. The nonprofit organization also gives back to youth music programs in the area. Visit gamblerogersfest.org for more information.
2022 LINEUP
The Steel Wheels
The Florida Troubadours
Passerine
Pierce Pettis
The Driftwoods
Victoria Jackson
Remedy Tree
The Carpetbaggers Band
Brian Smalley
Wild Shiners
Sam Pacetti
Dewey Via Band
Michael Jordan
Bad Dog Mama
Madi Carr
Red and Chris Henry's All Star Band
Grant Peeples
Davis Loose and the Loose Cannons
Bear and Robert
Fiona Maura
John Dickie and Collapsible B
The Skinny
Lonesome Bert's Thick and Thin String Band
Joe Mark
Colton McKenna
The Dunehoppers
Ron and Bari
Lee Hunter
Jerry Mincey
The Ashley Gang
Jamie DeFrates
Amy Hendrickson
The Morrow Family Band
Hart Line
Paul Linser
Better Half
Free Rangers
Marianne Lerbs