By Capt. Adam Morley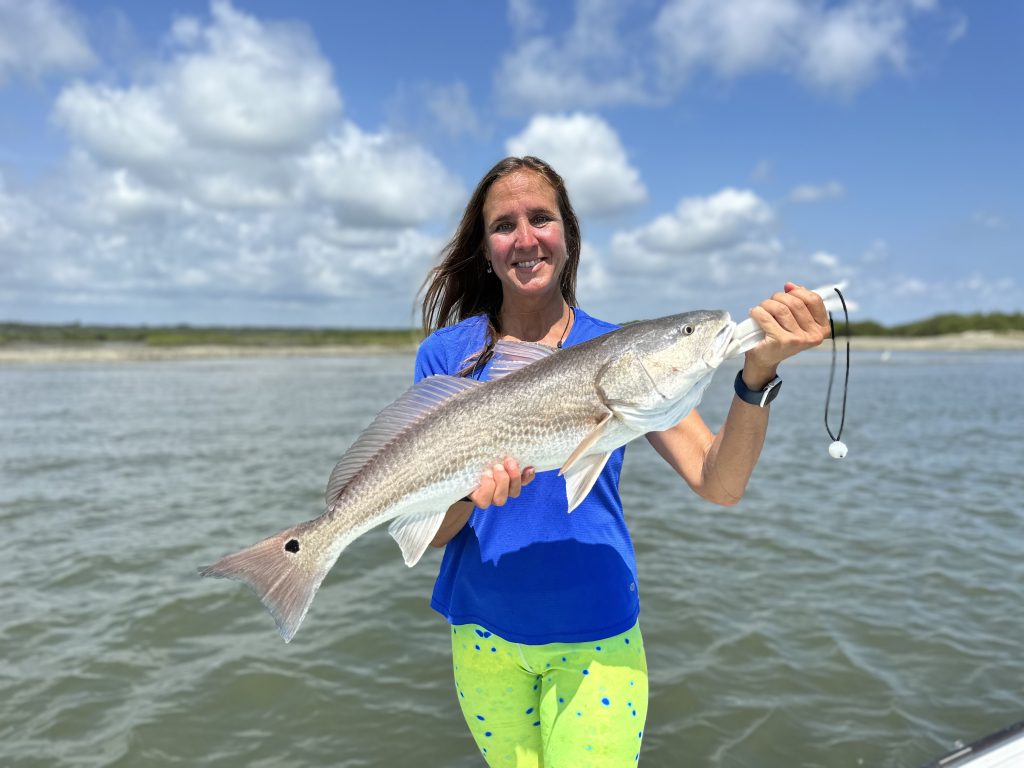 Hey folks, it's time for the latest buzz from the St. Augustine fishing scene, and I couldn't be more thrilled to share the latest updates with you. A big shoutout to our local contributors – Noah from the Fishbites Trading Post, The Bait Shack at the Vilano Boat Ramp, Capt. Scotty Shank with Full House Fishing Charters, Marcus Wiley, and Genung's Fish Camp – for their invaluable intel that makes this report possible. Let's show our appreciation for these knowledgeable folks who keep us in the loop!
Here's what's heating up in the inshore waters this week:

Black Drum: Solid numbers lurking in creeks, holes, and jetties. Shrimp, blue crabs, and fiddler crabs on Carolina rigs or plain jig heads have been the go-to baits.
Sheepshead: Cooler temperatures have fired up these fish around rocks, docks, and pilings. Bridge Donkey jigs and knocker rigs baited up with fiddler crabs, sand fleas, and live shrimp are producing impressive limits.
Trout: The drop in water temperatures has sparked a feeding frenzy. Top water action in the morning and subsurface along high water grass lines have yielded a strong catch rate, along with live shrimp under a popping cork.
Redfish: Short reds making consistent appearances from the surf to the creeks. Cut mullet or ladyfish on Carolina rigs have been effective, and the Fishbites Fight Club lures with paddle tails and curl tails on a 1/8 to 1/4 oz jig head are keeping local anglers hooked. Marcus Wiley shared his recent fishing tale, snagging 4 with the largest one measuring 23″, thanks to the fishbites white knuckle butt kicker on a spinner bait in murky waters.
In the surf, reports are a mixed bag based on water conditions:
Pompano: Diverse sizes reported in the area. Baits like Ghost Shrimp, sand fleas, blue crab knuckles, and Fishbites have been successful. Captain's Choice Pompano Rigs and other float rigs with The Sinker Guy Sputnik Sinkers are top picks.
Whiting: Coolers brimming this week with fresh dead shrimp on double drop rigs delivering a good day's catch.
Redfish and Black Drum sightings remain consistent enough to warrant a mention in the surf segment.
Offshore action is on the rise as weather conditions improve; Noah from Fishbites Trading Post shared strong wahoo reports, mixed with a few tuna sightings. The mahi mahi season is slowly winding down.
Exciting events coming up: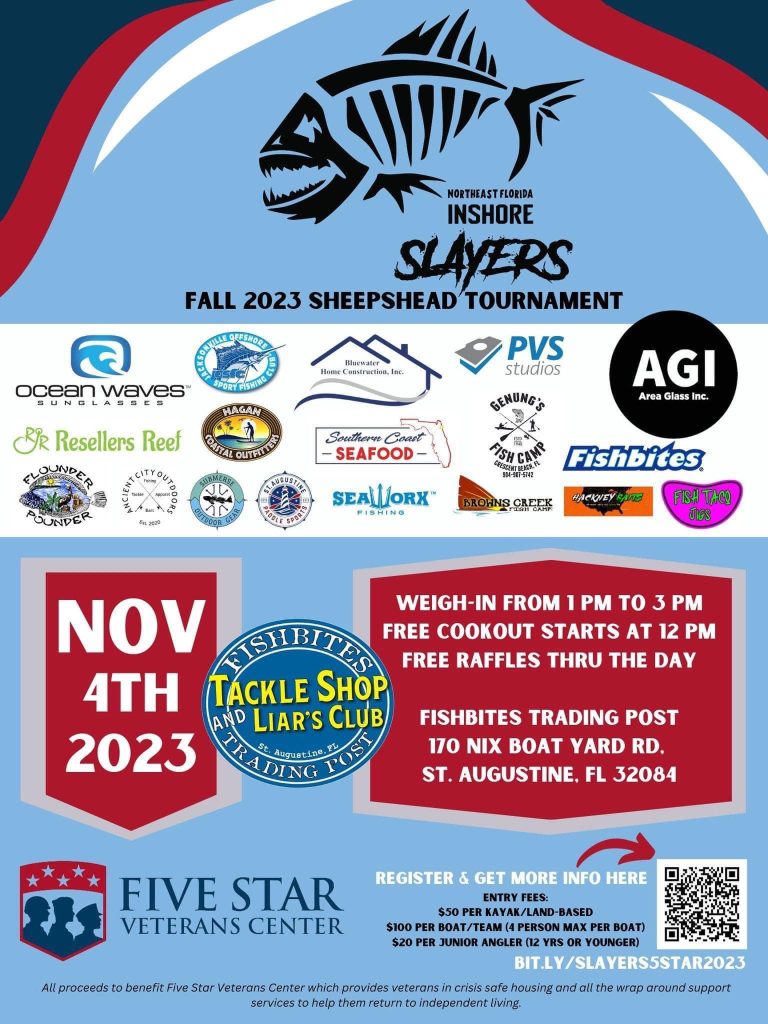 November 4th: Northeast Florida Inshore Slayers Fall Sheepshead Tournament at the Fishbites Trading Post with a public weigh-in and cookout. Join in for raffles and entertainment to support the 5 Star Veterans Center.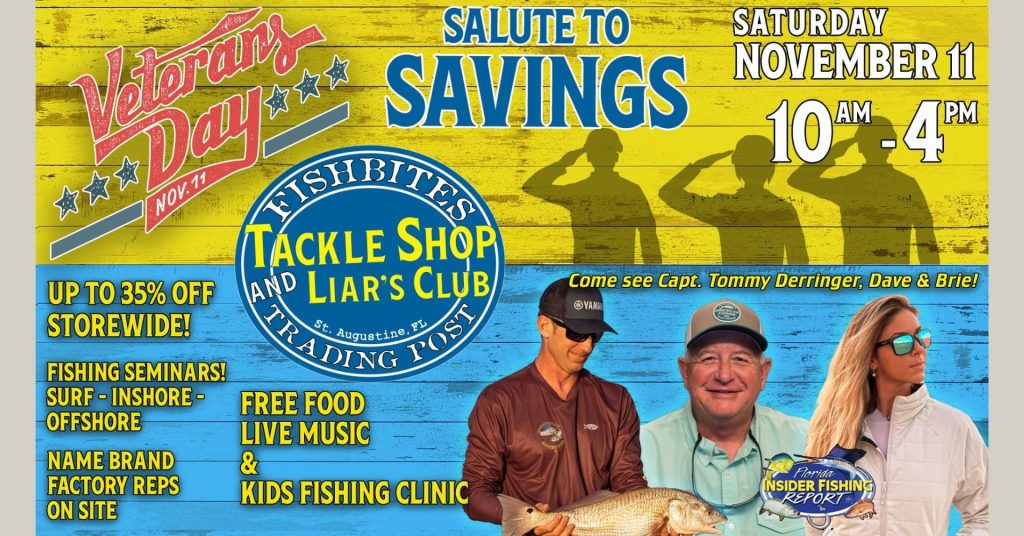 November 11th: Reel in the deals at the Fishbites Trading Post with enticing storewide discounts, a kids fishing clinic, giveaways & raffles to benefit veterans, and live music by Mike Cook. Enjoy a FREE Veterans Day cookout and donate to the local chapter of Heroes on the Water. Our friends, Dave, Brie, and Tommy Derringer, from the Florida Insider Fishing Report, will also make a special appearance!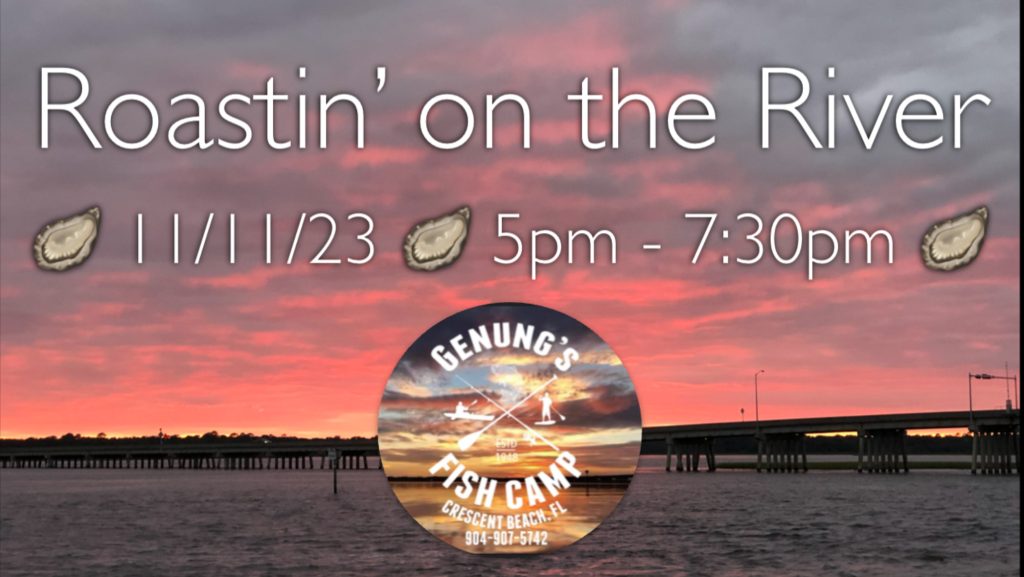 Lastly, don't miss "Roastin' on the River" on November 11th from 5-7:30pm, an oyster roast event aiming to raise funds for lifting the historic bait & tackle shop at Genung's Fish Camp. Enjoy mouthwatering smoked pulled pork sandwiches, exciting raffles, and a lively musical backdrop, all while soaking in the breathtaking sunset over the scenic Matanzas River. Tickets at $25 in advance, $30 day of the event. Drinks available for purchase in the shop. We're also seeking sponsors and volunteers – join us in preserving the legacy of our cherished bait & tackle shop!