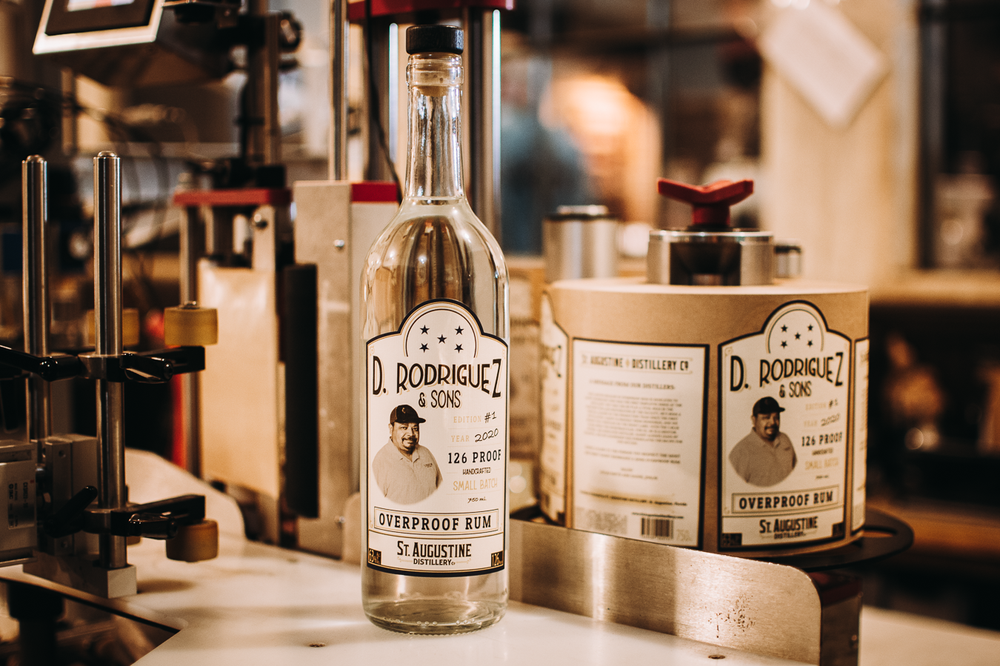 To honor their first employee and veteran member of the distilling team, St. Augustine Distillery is releasing its second batch of D. Rodriguez & Sons Overproof Rum on Saturday, October 23, 2021. As part of the new spirit launch, the distillery is hosting a special release event, complete with bottle signings, distiller meet and greets, and overproof rum daiquiri samples. This exclusive, small-batch rum will be available for purchase only on-site at the distillery.
Since joining the construction team in 2011, Danny was the distillery's first-ever hire and has played an integral role in everything from making the award-winning Florida Straight Bourbon to rebuilding the stills. The D. Rodriguez & Sons Overproof Rum was created to honor him as an instrumental and gifted member of the team. Three years after he began working at the distillery, Rodriguez was able to purchase his first house and create a true home for his family.
Philip McDaniel, CEO and Co-Founder, describes Danny as an indispensable part of St. Augustine Distillery's journey from day one.
"In 2010 before we opened the distillery, my partner and I visited a distillery in Denver, CO where we developed our original whiskey recipe. That team there said 'Guys, for sure, you're going to need a MacGyver… somebody who can fix anything because things break every day. The sooner you repair what breaks, the more whiskey you'll make.' That advice stayed with me and when Danny approached us at the end of the distillery's restoration project, he asked to stay on to learn about distilling. We offered Danny a full-time position as our facilities manager and apprentice distiller. He became the first member of our family and has been known ever since as Day One Danny. Danny is an amazing soul and craft distiller – along with being a loving dad, loyal husband, dedicated family member, and spectacular fisherman."
About the D. Rodriguez & Sons Overproof Rum:
Proof: 126 Proof
Nose: Overripe bananas, pineapples, tropical fruit esters, rich molasses and fresh-cut sugar cane
Palate: Full coverage. Warm with a spicy start and mellows to burnt sugars. Notes of honeydew melon and grapefruit
Finish: Rock candy and vanilla cake fade slowly to a clean, lingering finish
Bottle: Danny is proudly from Honduras, and to honor that heritage, the front label sports the five blue stars from the Honduran flag
Price: $40
Visit the St. Augustine Distillery on October 23, 2021, for the event to honor Danny's hard work and dedication. If you can't make the event, the rum will be in the gift shop while supplies last. The gift shop is open every day from 10:00 am to 6:00 pm. For more information, please visit staugustinedistillery.com.