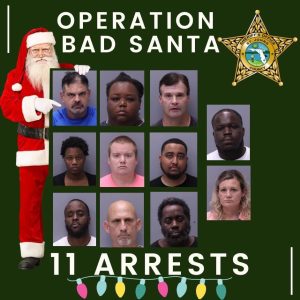 BAD SANTA OPERATION: The St. Johns County Sheriff's Office (SJSO) Property Crimes Unit (PCU) Detectives, Deputies, and Intelligence Analysts recently conducted a proactive multi-week operation to combat Retail Theft, Organized Retail Theft, and other crime at numerous locations across St. Johns County. As a result of this operation 11 suspects were arrested, 10 charging affidavits were completed, 4 Juvenile Civil Citations were issued, and over $7,000 worth of stolen property was recovered.
According to national statistics, 81.2% of retailers surveyed report that violence and aggression associated with Organized Retail Crime incidents increased in the past year. In 2022, SJSO Deputies and Detectives arrested or charged over 700 subjects with retail theft related crimes. SJSO PCU Detectives are members of the Florida Organized Retail Crime Exchange (FORCE), a statewide intelligence sharing Task Force initiative coordinated by the Florida Attorney General's Office to proactively combat retail theft and protect retail employees.
"The St. Johns County Sheriff's Office is working with these businesses to combat shoplifting and other crime by utilizing undercover operations, as well as, bike and foot patrols. Also, we are working with the State Attorney's Office to ensure proper charges are applied, especially in the case of repeat offenders. Additionally, our Real Time Intelligence Center (RTIC) is using the latest technology to assist in solving these crimes," said Sheriff Robert Hardwick.
Great work by our Property Crimes Unit!!