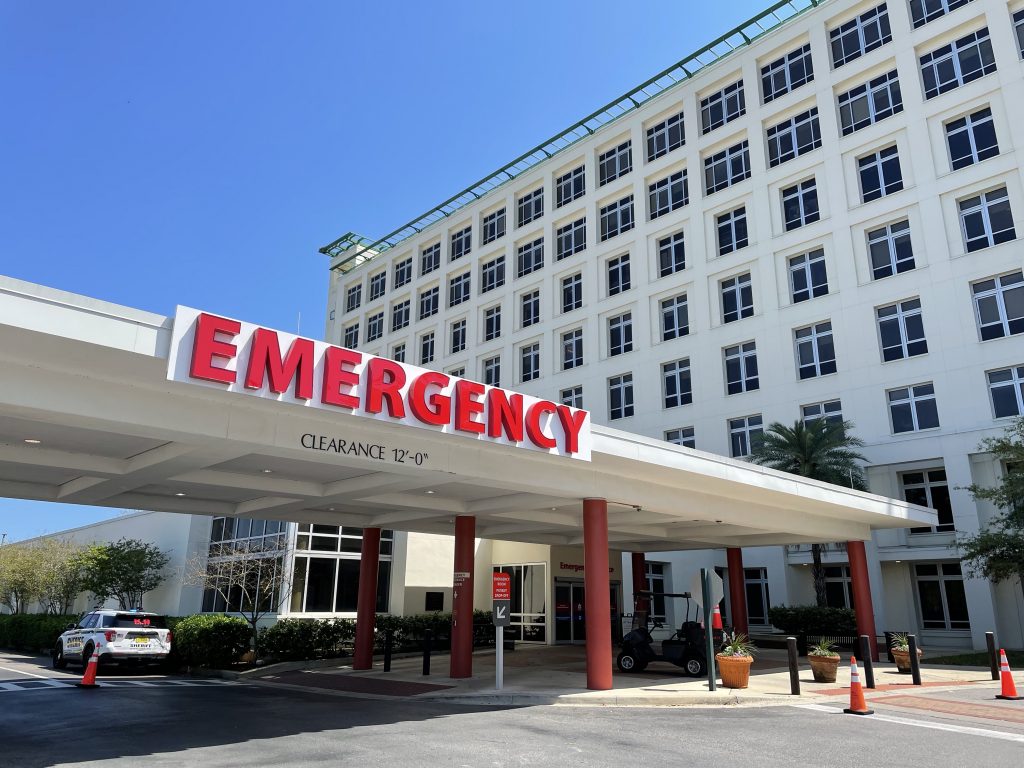 ST. AUGUSTINE, Fla. (February 2, 2023) —Flagler Health+ and UF Health, the University of Florida's academic health center, announced today that they have entered into an exclusive, non-binding letter of intent to develop plans to transform health care delivery in the region, with a bold vision for the future.
The move comes in the wake of the recent decision by Flagler Health+ to explore joining a like-minded health system to enhance local health care services and expand access to care in the community. The Flagler Health+ Board of Trustees and leadership team selected UF Health because the nationally renowned health system offers the strengths of a top 5 public research institution coupled with innovative, high-quality, leading-edge care that will benefit the residents of Flagler, St. Johns, Putnam, Clay and Duval counties.
The two organizations will now move forward with detailed due diligence toward the goal of Flagler Health+ becoming part of UF Health later this year.
"We envision a future where the services provided by Flagler Health+ meet all our community members' needs. We are pleased with how our exploration is progressing and look forward to the possibility of making this vision a reality with the University of Florida," said Flagler Health+ Board of Trustees Chairman Todd Neville. "Moving forward with UF Health is the right next step because of our shared commitment to those we serve."
Mori Hosseini, chair of the UF Board of Trustees, said university and health system leaders are looking forward to magnifying opportunities to offer hope and healing for patients and their families through the delivery of world-class, compassionate care.
"UF and UF Health are re-energizing health care delivery throughout the state of Florida," Hosseini said. "We seek to transform lives, and plans like these are a step toward tackling patients' greatest challenges and improving the health of our communities. Collaboration and a keen commitment to solutions is in our DNA. We are up to the task and intend to lead the way."
Flagler Health+ explored options from some of the most respected health care organizations in the country, with a specific focus on:
· Continued enhancement of quality and patient satisfaction through the sharing of best practices.
· Supporting key community-focused service lines (e.g., Behavioral Health, Women's Health, etc.) while expanding the breadth and depth of services provided locally.
· Enhancing Flagler Health+'s ability to provide high-quality health care services to underserved populations.
· Strengthening recruitment and retention of team members, physicians and advanced practice providers to enhance the community's access to local quality health care.
· Adding technology resources and expertise, including an integrated enterprise-wide technology strategy, electronic health record implementation and new clinical technology and equipment to support health care professionals.
· Enhanced access to capital to support future investments in facilities, infrastructure, technology and growth initiatives.

"Everything we do is driven by our longstanding commitment to our community and our dedication to our team members, providers and patients," said Flagler Health+ CEO Carlton DeVooght. "We are excited about this potential opportunity and our next steps with UF Health."
Together, Flagler Health+ and UF Health pledge to deliver the highest level of clinical quality and safety, said David R. Nelson, M.D., senior vice president for health affairs at the University of Florida and president of UF Health.
"UF Health has a long track record of bridging scientific discovery with clinical advances that improve the lives of countless patients and of training the next generation of health care providers," Nelson said. "We are excited about our shared vision with Flagler Health+ to take health care to the next level and look forward to our ongoing discussions as we collectively focus efforts on delivering outstanding care for area residents."
WHAT THIS MEANS FOR PATIENTS AND THE COMMUNITY
Flagler Health+ and UF Health will begin a formal due diligence period to fully determine the details of a final agreement. A final decision is expected later this year.
This process does not impact daily operations. Flagler Health+'s priority continues to be providing exceptional care to patients, and patients can continue to see their current doctors and access the services they always have.
Visit FlaglerHealthForward.org to learn more, review frequently asked questions or submit a question of your own.
About Flagler Health+
Flagler Health+ is a total care enterprise aimed at advancing the physical, social and economic health of Northeast Florida communities. From serving as the lead agency for St. Johns County's Continuum of Care to end homelessness, to bringing a new concept in health villages throughout the region, Flagler Health+ is your caring partner throughout the journey of life. Flagler Health+ is an extension of Flagler Hospital, which has a 130-year legacy of caring for the community. The 335-bed hospital has been named among America's 50 Best hospitals out of nearly 4,500 nationwide. Flagler Hospital has also earned the Gold Seal of Approval™ from The Joint Commission for primary stroke care centers, national accreditation for its total hip and total knee replacement programs, accreditation from the American College of Surgeons' Commission on Cancer, and Center of Excellence designation for its bariatric surgery center.
About UF Health
University of Florida Health, part of one of the nation's top 5 public research universities, is a world-class academic health center that combines leading-edge research at campuses around Florida with outstanding clinical care at a network of hospitals around the state. The flagship is UF Health Shands Hospital, with 10 adult and pediatric specialties ranked among the nation's elite top 50 programs in the 2022-2023 U.S. News & World Report Best Hospitals and Best Children's Hospitals surveys. That's more than any other hospital in Florida. UF Health consists of six health colleges, 10 research centers and institutes, 10 hospitals — including two teaching hospitals and five specialty hospitals — three veterinary hospitals, and a host of physician medical practices and outpatient services. Visitflaglerhealth.org to learn more.
The backbone of UF Health is a talented and dedicated workforce of more than 29,000 faculty and staff who provide lifesaving care and research breakthroughs for more than 3 million patients who come to UF Health each year from around the U.S. and more than 31 countries. UF Health is committed to improving lives and health through a variety of community-based programs and activities as part of the state's "safety-net'' hospital system, caring for people who have little or no medical coverage. Annually, UF Health contributes more than $4.6 billion to Florida's overall economy. Our mission is to promote health through outstanding and high-quality patient care, innovative and rigorous education in the health professions and biomedical sciences, and high-impact research across the spectrum of basic, translational and clinical investigation. Visit www.UFHealth.org to learn more.