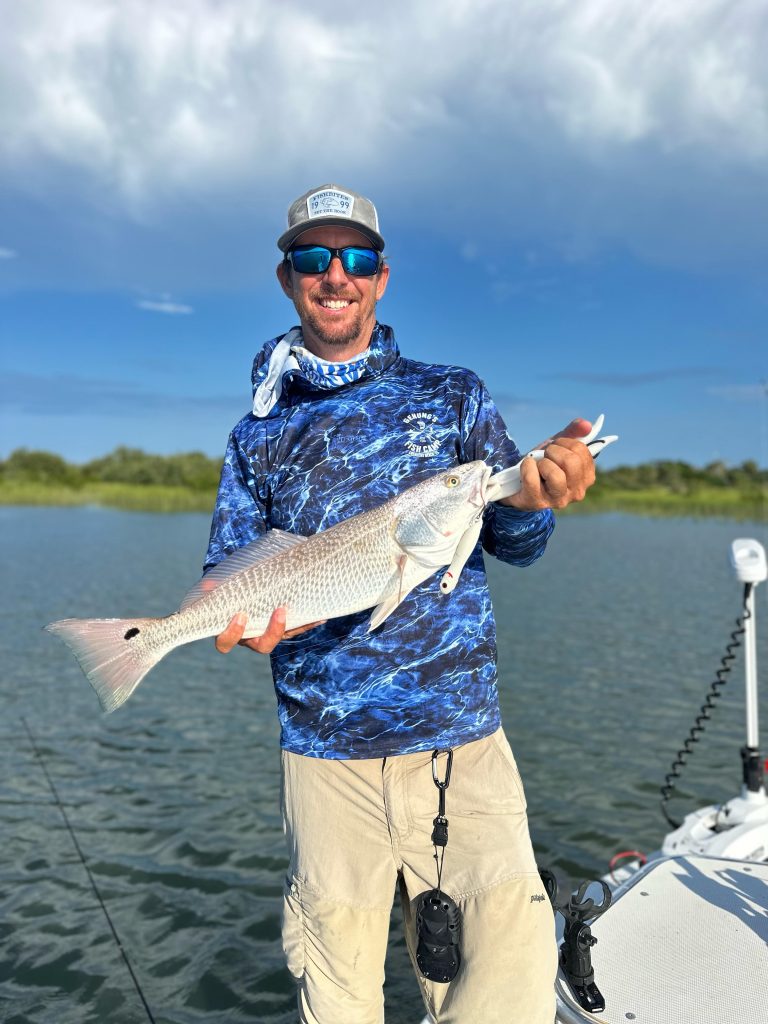 In this report, we provide you with the latest fishing information for St. Augustine. Covering inshore, beach, and offshore fishing, we also offer details on moon phases, basic tides, and upcoming tournaments. It's your go-to resource for staying informed about the local fishing scene.

Inshore: North River, St. Augustine, and Matanzas River
Redfish: The redfish bite has been strong recently, especially with the start of the mullet run. Reports indicate a slight slowdown on Sunday, but overall, redfish have been active. Effective baits have included live finger mullet, live shrimp, and fresh dead shrimp from the inlets to the tidal creeks. Some reds have been picky with artificial lures, but topwater baits like the Kiss My Fish "Creeper" have worked during higher tides in the early and late parts of the day.
Mangrove Snapper: Mangrove snapper have been plentiful in the area, but most reports suggest they are mostly undersized. Small finger mullet has been effective for the larger ones, while shrimp have produced higher numbers of snapper.
Snook: Snook season has opened recently, and solid reports are coming in from the southern part of the county and Flagler County. The key to targeting snook has been during morning and evening hours when the water is moving. Large live shrimp or finger mullet free-lined around bridge and dock lights have been successful, and artificial anglers have found luck with large swim baits.
Flounder: While flounder numbers are down, the sizes of the ones being reported are larger, with many exceeding the 20-inch mark. Live finger mullet hooked through the lips with a jig head in deeper moving water around drop-offs have been effective. Additionally, paddle tails and curl tails on a jig head can also work well for flounder.
Trout: Trout reports have been scarce, but some have been found around dock lights. These elusive fish seem to be concentrated in these areas.
Overall, the fishing scene in North River, St. Augustine, and the Matanzas River has been promising, with redfish and snook being the highlight catches. Anglers are encouraged to adapt their bait and techniques based on the changing conditions and preferences of the fish.
Surf Fishing Report for St. Johns County Beaches

Pompano Run/Migration: Pompano are starting to appear for their fall run/migration along St. Johns County beaches. While most of them are still undersized, anglers are also catching slot-sized pompano in the mix. The larger pompano are expected to arrive in a few weeks.
Bait and Rigs: The preferred baits for targeting pompano include ghost shrimp, live sand fleas, Fishbites, and fresh dead shrimp rigged on various setups like Bruno Rigs, BS Surf Fishing Rigs, and the new St. Augustine Sandman Surf Rig.
Tides and Timing: Falling tides into the incoming tide have proven to be the most productive times for pompano fishing, as reported by Barry from BS Surf Fishing Charters.
Water Conditions: Clean water conditions are essential for a successful day of pompano fishing. The presence of mullet on the beach indicates that larger predators are also active in the area, including redfish, flounder, tarpon, and jacks.
Sputnik Sinkers: Due to the relatively strong current, Sputnik sinkers are practically a must if you want to anchor and hold your position while surf fishing.
Other Catches: Whiting are being caught in the surf, although they are not the primary target for most anglers.
Highlight Catch: The highlight of the week came from Cullen, who landed a nice permit towards the southern end of the county's beaches.
Overall, St. Johns County beaches are offering a variety of fishing opportunities, with the pompano run in full swing and the chance to encounter other exciting species like redfish, flounder, tarpon, jacks, and even permit. Anglers are advised to pay attention to tides, bait choices, and sinker selection to maximize their success in this dynamic surf fishing environment.
Offshore Fishing Report

Amaco Jacks, Vermillion Snapper, and Amberjacks: Recent offshore excursions have revealed a diverse array of species that have kept anglers hooked. Amaco Jacks, known for their raw power and fierce fights, have been making their presence felt, providing an adrenaline rush for those lucky enough to tangle with them.
Venturing into deeper waters, we've encountered Vermillion Snapper, a species that requires both skill and patience to reel in. Their vibrant colors and delectable taste have made them a popular catch among anglers, adding a flavorful twist to the day.
And then there are the Amberjacks, truly formidable giants of the deep. With the right equipment and seasoned guidance, several of these powerful fish have been successfully landed. The largest among them tipped the scales at an impressive 40 pounds, a testament to their sheer strength.
Gag Grouper at the Ledge: The Ledge area has lived up to its reputation as a hot spot for Gag Grouper enthusiasts. Anglers have perfected their techniques, consistently bringing in these robust fish. One Gag Grouper reported weighed a substantial 25 pounds, showcasing the rich opportunities available at this location.
Kingfish Near the Coast: While Kingfish sightings near the coast have slightly decreased compared to previous reports, they haven't completely disappeared. Anglers looking for fast-paced action can still find joy in pursuing these pelagic speedsters.
This comprehensive offshore fishing report is made possible by the dedication of those committed to sharing their expertise, such as The Bait Shack. Their unwavering support for the angling community remains instrumental in the success of offshore adventures.
Moon and Tides:
This week brings the approach of the new moon on Thursday, which is associated with significant tidal changes. High tide is expected around sunrise early in the week and is likely to shift towards midday by the end of the week. These tidal patterns can affect fishing and navigation, so it's important to stay informed and plan your outdoor activities accordingly while prioritizing safety.
Upcoming Tournaments:

Flagler Sportfishing Club's Member Classic, September 23rd. Info at: flaglersportfishing.com
Angler's for a Cure: 17th Annual Inshore Slam Tournament, September 30th. Info at: anglersforacure.org
10th Annual King of the Hill, October 7th. Info at NeptuneBaptist.org/kingofthehill
Pink Up The Spots Charity Tournament: October 13th-14th. Info at: Pinkupthepace.com
14th Annual Flounder Pounder, October 14th. Register at: flounderpounderjax.com
ifish Flagler 10th annual inshore tournament, October 14th. Info at: ifishflagler.com