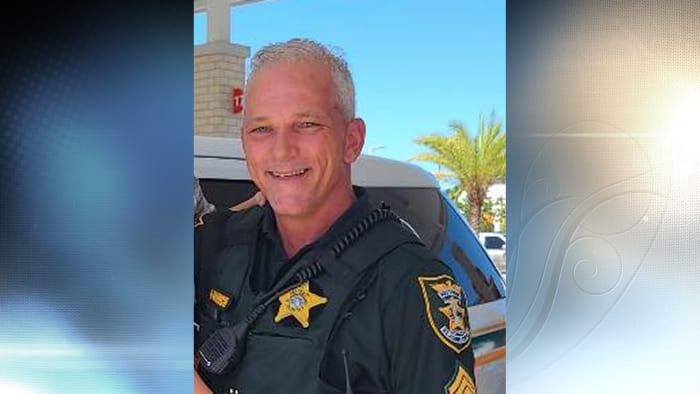 The St. Johns County Sheriffs Office has officially released details on the funeral arrangements for fallen Sergeant Michael Kunovich –
ST. JOHNS COUNTY, FL, MAY 22, 2023 – On the evening of May 19, 2023, while on duty with the St.
Johns County Sheriff's Office, Sergeant Michael Kunovich died in the line of duty.
Sergeant Kunovich was a 25-year member of the St. Johns County Sheriff's Office and most recently served as a Sergeant in the Central Region. He worked in various capacities to include as a Reserve Deputy before coming on board full-time, a Senior Law Enforcement Deputy, a Senior Internal Affairs Detective, and a Patrol Shift Leader. Throughout his 25 years of service, he received numerous awards to include a Meritorious Service Award in 2003 and 2013, an Exceptional Service Award in 2010, and many letters of commendation. Sergeant Kunovich also served on the SWAT Team for 5 years and while serving, he also earned his Bachelor's Degree in Public Administration from Flagler College.
While Sergeant Kunovich took on the important role of serving and protecting our community for 25 years, his most important role was that of being a father to two amazing young men who were his whole world.
This was evident as his face would light up whenever he talked about them which was every chance he got.
"Sergeant Kunovich will be deeply missed by not only his immediate family and his family at the St. Johns County Sheriff's Office, but also by our community," said Sheriff Robert Hardwick. "Sergeant Kunovich was a valued member of the St. Johns County Office who passionately dedicated his career to keeping our community safe."
Sergeant Kunovich's viewing will be on Thursday, May 25 from 5:00-7:00pm at Hardage Giddens located at 1285 St. Johns Parkway St. Johns, FL 32259. His funeral service will be at 10:00am at St. Joseph's Catholic Church located at 11757 Old St. Augustine Road Jacksonville, FL 32258. A procession will commence to Oaklawn Cemetery located at 4801 San Jose Blvd. Jacksonville, FL 32207 immediately following the funeral service. A route will be released in the coming days so that those wishing to pay their respects roadside can do so.
On behalf of the St. Johns County Sheriff's Office, thank you to everyone who has reached out to offer their support and condolences. Please join us in continuing to lift up Sergeant Kunovich's family, friends, and colleagues in your prayers as we all process this loss. We also ask that you please respect the family's privacy during this time.